Nurturing the ecosystem:
helping SMEs at every stage
Nurturing the ecosystem:
helping SMEs at every stage
Entrepreneurs need financing and support at every stage of their development
The EIF has deployed many EU instruments across Germany, focused on supporting key areas such as innovation, growth, social entrepreneurship and microfinance.
In addition, we have developed a toolbox of targeted financial instruments with our German partners that harness national and regional resources, and combine these with the commitment and expertise of the EIB Group. Below we highlight a selection of these instruments.
Supporting German social entrepreneurs
Through the Social Impact Accelerator ("SIA"), a pan-European social impact investing platform of EUR 243m, the EIF takes cornerstone equity investments in social funds, which, in turn, invest to build successful social enterprises. Under SIA, a social enterprise must deliver on social impact metrics as well as financial metrics.
EIF has invested c. EUR 35.2m in three German based social impact funds: Social Venture fund II & Ananda Impact Fund III, managed by Ananda Ventures; and BonVenture III, managed by BonVenture Management. Ananda Ventures has become one of the most tech-savvy impact fund managers within the EIF'S SIA portfolio, designing a strategy that builds on technology to provide impact or to accelerate impact through technology.
Supporting innovation at its roots
Research yields ideas, which is why the EIF also supports investments that take ideas out of academia and into the commercial space.
In 2018, the EIF signed the first dedicated technology transfer fund in Germany, the EUR 60m Fraunhofer Tech Transfer Fund, which combines the backing of 72 application-oriented Fraunhofer research institutes, helping rank the Fraunhofer Society as a whole among the top 100 innovators worldwide, with the EIF. The fund aims to support the commercialisation of deep tech innovations in areas such as advanced materials, light and surfaces, microelectronics, engineering and life sciences.
Together with two multi-generational family offices, the EIF also invested in the Initiative for Industrial Innovators in 2018. This initiative will encourage and enable teams to prototype and commercialise their engineering-based ideas and unlock entrepreneurial potential at its earliest stage. This initiative provides grants and pre-seed capital in the participating local ecosystems - each consisting of a family office, an innovation center and a local technological university – in order to fund up to 2,000 disruptive deep tech solutions.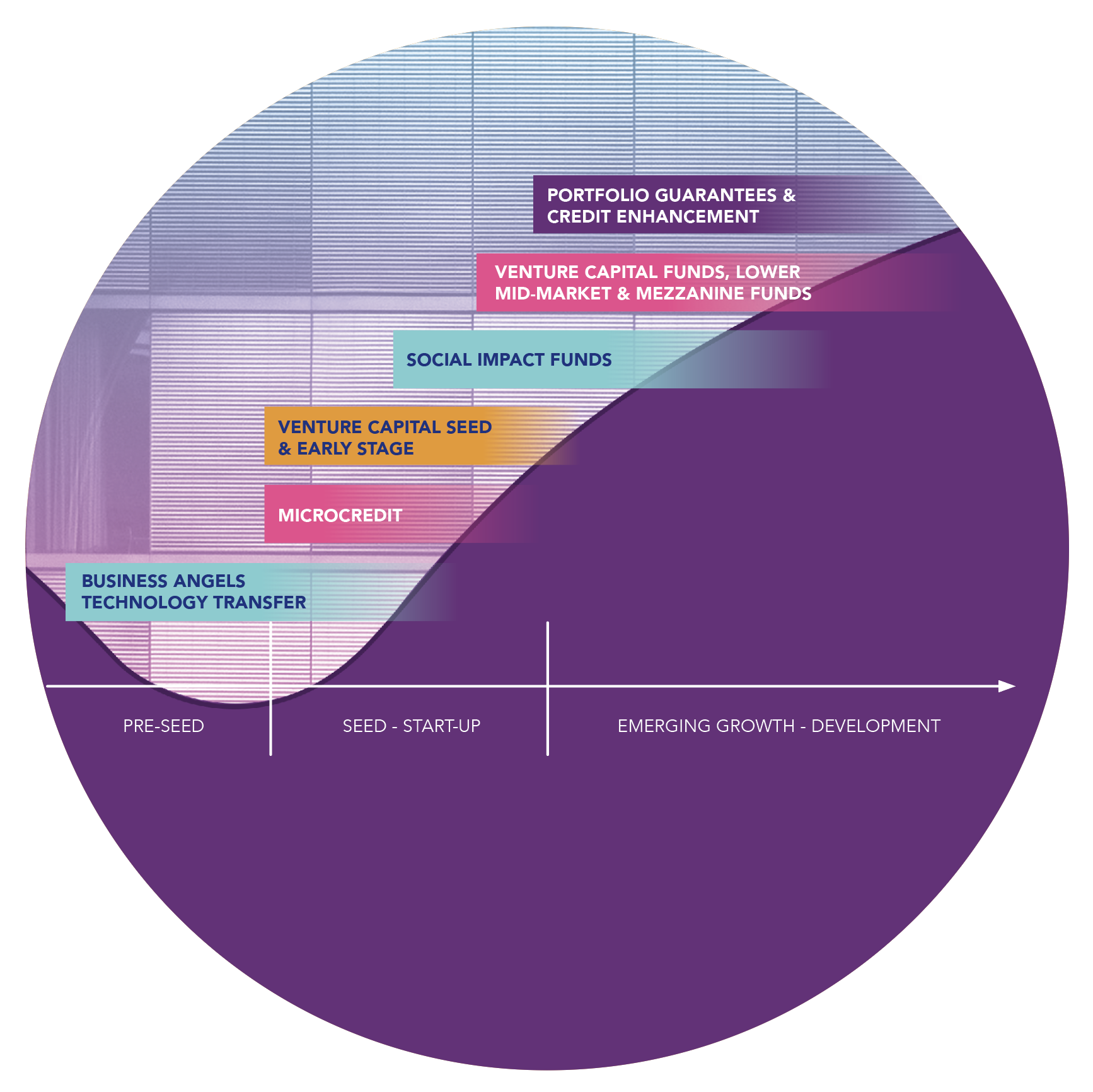 Leveraging non-institutional early stage investors: the European Angels Fund
Business angels are a valuable source of capital and advice for innovative early-stage entrepreneurs. In order to bolster their investment potential, the EIF together with BMWi and LfA Förderbank Bayern pioneered a new programme in 2012 - the European Angels Fund (EAF).
The programme supports business angels by providing equity in the form of co-investment. Each business angel is granted the maximum degree of freedom under the EAF, which supports the individual's investment style while still providing significant support. Based on its success in Germany, the EAF has been expanded to other geographies across Europe where it has invested in around 90 business angels, who have built up a portfolio of more than 450 SME co-investments.
Supporting a functioning securitisation market to increase local lending
The EIF proudly welcomed Bpifrance as a founding member of its new NPI Equity Platform in 2016; a partnership that will help to spread best market practice, enhance cooperation and support private investment into a range of initiatives aimed at supporting French SMEs. The Platform now has a total of 38 NPIs from 24 countries across Europe as its members and is a driving force of know how and investment capacity. This collaboration between the EIF and Bpifrance is one example of many, including co-investments in equity & hybrid equity space and collaboration on a securitisation initiative: ENSI.
Helping companies scale up and grow: Mezzanin Dachfonds für Deutschland
Entrepreneurs can find it hard to access growth finance – they are either too small to access traditional private equity investments or they need more flexible financing not always provided by banks. The so-called "mezzanine" or "hybrid" instruments, which sit between equity and debt, provide a targeted solution. The Mezzanin Dachfonds für Deutschland (MDD) I and II, are a joint initiative between the EIF and BMWi, LfA and NRW.Bank that offer alternative financing for SMEs looking to grow and scale their businesses.
MDD I, now fully invested, has supported 6 funds and backed more than 100 high growth companies, of which c. 40% are based in Germany and employ over 14,550 employees of which 8,200 in Germany. The MDD 2 is currently in deployment phase.
Early to growth stage financing:
the ERP-EIF Facility
Today, Berlin is viewed as a technology innovation hub in Europe, but this was not always the case. In fact, in the aftermath of the the dotcom crisis, fund managers in Germany struggled to find investor backing, which deprived local entrepreneurs of valuable access to finance. To address this gap, the German Federal Ministry of Economics and Technology (BMWi) and the EIF joined forces and in 2004 launched the ERP-EIF Facility.
Since its launch, the success of the ERP-EIF Facility speaks for itself: from an initial volume of EUR 500m in 2004, to a total investment of EUR 3.2bn, more than 80 venture capital funds have received investment with more than 645 high-tech German SMEs benefiting. Innovators such as Flixbus have received support from this targeted programme.
Not only did this initiative help reignite the German VC ecosystem, but the model of developing and deploying local mandates to address specific gaps has since been replicated at a regional level via the LfA-EIF Facility for Bavaria with an additional volume of EUR 200m and in other European markets.